The donation of June 2019 goes to: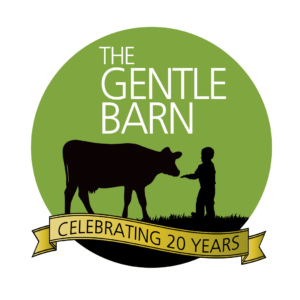 the Gentle Barn
The Gentle Barn is an American nonprofit animal welfare organization located in Santa Clarita, California. Founded by Ellie Laks in 1999, their mission is to provide sanctuary for abused animals who would not otherwise be able to find homes.
Jay Weiner joined The Gentle Barn in 2002 as a volunteer but fell in love with the place and the two joined forces to heal even more children and animals together. Like Ellie, Jay also turned to animals for the support, love and nurturing he needed as a child.
The Gentle Barn started on a half-acre property in the middle of the San Fernando Valley, CA. In 2003 they moved to a six-acre paradise in Santa Clarita, CA. The property is complete with large horse and cow pastures, a red and white barnyard for the smaller animals, an organic vegetable garden, lots of shade trees, and a panoramic view of gorgeous mountains. Their over one hundred and seventy rescued animals are safe and happy at The Gentle Barn, and there is plenty of room to welcome their visitors and the children they host.
The Gentle Barn has a second location in Nashville, Tennessee, and a third in St Louis, Missouri. It is their goal to open Gentle Barns in every state so that everyone in America can hug cows, cuddle turkeys, give pigs tummy rubs, and look into the eyes of these animals and know for certain that we are all the same, and deserving of the same rights, respects, and freedoms. Since its inception, The Gentle Barn has saved thousands of animals and been host to over 500,000 people.