Of course, you could get that special someone a mundane gift like roses, diamonds, chocolates, or a bottle of hooch.
But there are also special gifts: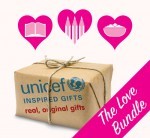 UNICEF Australia offers a wide range of charity gifts among which even a Valentine's Day Love Bundle. This thoughtful gift is a great alternative to the usual flowers and chocolates and most importantly, will provide vital supplies to children who need it most. Includes 100 pencils and 2 storybooks to help a lifelong learning journey to unfold, as well as 45 Therapeutic Food Plumpy'Nut sachets to provide children with nutrition and vital energy.
Tell your sweetheart they mean the world with a UNICEF Love Bundle.