The donation of April 2018 goes to: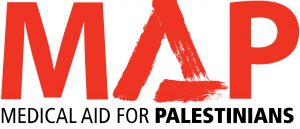 Medical Aid for Palestinians (MAP)
MAP's vision is a future where all Palestinians can access an effective, sustainable and locally-led system of healthcare and the full realisation of their rights to health and dignity.
Through their offices in the West Bank, Gaza, East Jerusalem, Lebanon and London, they work with trusted and experienced local partners to achieve this vision.
Their programmes provide access to essential health services and build local knowledge and skills to address local health problems. In times of humanitarian emergency, they are ready to respond rapidly with aid and assistance.
MAP is also committed to bearing witness to the injustices caused by occupation, displacement and conflict. They speak out in the UK and internationally to ensure the political and social barriers to Palestinian health and dignity are addressed.
Essential primary healthcare
Strong primary healthcare is central to improving health and to tackling health inequalities. This is especially essential in occupied Palestine and Lebanon, where access to health services is often difficult and few doctors and nurses have specialised training in family medicine.
Women and Children's health
For Palestinians living under occupation and as refugees, infant and child mortality rates have not decreased significantly over the past 10 years.
MAP is working consistently to strengthen health systems to meet the challenges faced.
Emergency Preparedness and Response
Hundreds of Palestinian lives are lost and thousands are injured every year. Hospitals are under-resourced and emergency staff do not have the training they need.
In a volatile environment, preparation and training can make the difference between life and death.
Mental Health and Psychosocial Support
Psychosocial support is an integral part of MAP's work. It helps individuals and communities to heal psychological wounds and rebuild social structures.
Disability
MAP is playing an important role, challenging medical and disability professionals to rethink disability as a social issue. We're working to remove the barriers to the participation of people with disabilities in society.