The donation of March 2018 goes to: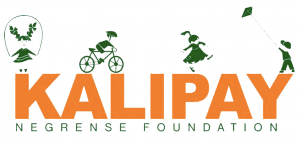 Kalipay Negrense Foundation
The Kalipay Negrense Foundation Inc. is a non-profit foundation working for the causes of disadvantaged children – the homeless, physically and sexually abused, malnourished, out of school and special children. It hopes to break the cycle of hopelessness in the lives of disadvantaged children by providing shelter and food, health care and counselling and introducing them to education. The image of homeless, hopeless people who work and live on the streets is a familiar sight. Forced on the street by a spirit–destroying poverty and family dysfunction – the ones who suffer the most are the children.
Kalipay Negrense Foundation Inc. was conceptualized by Ms. Anna C. Balcells and some friends in 2007 and was established as an urgent and concrete response to the growing number of abused and abandoned children in Negros Occidental.
Their goal
No child should be on the streets,
No child should be hungry,
No child should be denied education and
No child should be subjected to violence
The children they help
Abandoned
Neglected
Malnourished
Streetchildren
Orphans
Victims of child trafficking
Victims of child labor
Sexually abused
Physically abused
Foundlings