The donation of September 2017 goes to: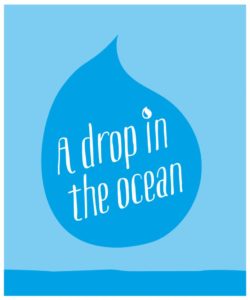 Dråpen i Havet (a Drop in the ocean)
Dråpen i Havet is present on the island of Chios, in Northern Greece and in the area of Athens as of May 2017. They work directly inside the refugee camps regulated by the National Greek Military.
Their main tasks are to distribute food, clothes and non-food items. They are also involved in planning and organizing different activities for children and adults in the camps. Furthermore, they assist in teaching English as well as provide material and logistics for bilingual education. They are cooperating with different organizations in all camps, such as UNHCR, Help Refugees, Save the Children, the international Red Cross and other partners.
Dråpen i Havet on Chios / Χίος
On Chios, they are operating in the refugee camp Souda, which is a ten-minute walk from the centre of Chios town.
They are responsible for the distribution of breakfast, lunch and dinner to around 800 people on a daily basis. They also participate in the preparations of the food. In addition to this, they organize activities for kids, such as reading, drawing and dancing.
On Chios, they have their own warehouse where they can sort and pack clothes that are distributed to the refugees who live outside the organized camps.
Dråpen i Havet in Skaramagkas / Σκαραμαγκάς
In Athens, they are present in the official camp Skaramagas, a 40-minute drive from the city centre. There are around 2500 people living in the Skaramagas camp and Dråpen i Havet is here in charge of several activities from Mondays to Saturdays.
Drop-in Centre
The Drop-in Centre is available for asylum seekers who have been given relocation to Norway, and who are interested in getting a taste of the Norwegian language and culture. The Norwegian government has agreed to welcome around 750 asylum seekers who will have their asylum applications processed in Norway and are currently located in Greece and Italy.
After the Norwegian Directorate of Immigration has selected who is eligible for relocation, the asylum seekers will have to wait in Athens for a few months before they can travel to Norway. During this period, the Drop-in Centre offers pre-integration activities. The Centre is organised like a language café, where Norwegian volunteers from Dråpen i Havet can give the asylum seekers a preview of what they can expect in Norway.
Mother and Baby Space
This place is established to give mothers private and intimate time with their babies. Here, they can take care of their children, change clothes, get support and interact with other mothers. No men are allowed inside.
Teenage and Woman's Space
This place is created to organise different activities for young girls and teenagers, such as makeup lessons, art and craft hobbies and theme nights. No men are allowed inside.
Warehouse
The warehouse is based at Aigaleo / Αιγάλεω (20 min from Skaramangas Camp) and this is where donations arrive. Here they are organised and categorised before further distribution at the camp. In addition, the warehouse is also used to construct different materials and objects needed in the camp, for example, shelves and tables.
Community Centre
This newly built community centre is designed to benefit the resident community and is used for different activities according to their own wishes.
The community centre has 3 rooms with different purposes, including activities such as sewing (sewing machines are provided), English lessons for adults, yoga lessons and dancing lessons for young girls. They also provide educational games for young adults and kids, which is called Play for Peace.
Sports activities
Skaramangas camp has a soccer and basketball court which enables them to perform several sports activities with the kids.
Clothes Exchange (Mondays)
They want the activities which Dråpen i Havet provides to be sustainable for a long period of time. This is why they created a clothing exchange system instead of just handing out the clothes. By this, they created a space where residents can bring 10 items of clothes that they may exchange for 10 new items. All the clothes they receive are being washed and put back into the exchange system. It is particularly important to change summer clothes for winter clothes and vice-versa.
Dråpen i Havet in Nea Kavala / Νέα Καβάλα
In northern Greece, we are based in the official refugee camp Nea Kavala. This camp has in excess of 500 residents and is located about one hour drive from the city of Thessaloniki / Θεσσαλονίκη.
Here, Dråpen i Havet has the responsibility of the distribution of food, clothes and other essential goods.
Vegetables
On Wednesdays and Sundays, volunteers from Dråpen i Havet travel to Thessaloniki to pick up vegetables, which later are sorted and distributed to the residents of Nea Kavala. This gives the residents the opportunity to cook their own food for their families.
Market
Dråpen i Havet has built a marked where they sell clothes and other necessary non-food items to the residents of the camp.
Warehouse
In the warehouse, the donations and other items received are being sorted, organised and made ready for further distribution in Nea Kavala by volunteers from Dråpen i Havet.