The donation of November 2018 goes to: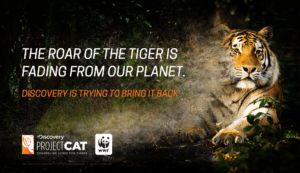 Discovery & WWF – Project CAT
With Project C.A.T. – Conserving Acres for Tigers – Discovery is making it their mission to ensure a future for tigers and other endangered wildlife so there will always be stories to tell.
As a large predator, tigers are an umbrella species. They play a key role in maintaining a healthy ecosystem. By protecting tigers and their habitat, they're also helping to protect other at-risk animals that share this habitat, like Asian elephants, greater one-horned rhinos, clouded leopards and important prey species. Since tigers need vast amounts of land to thrive, this initiative also protects vital forests, which in turn benefits local communities, and the planet as a whole.
Tigers face multiple threats from poaching, habitat loss and fragmentation, conflict with humans and overhunting of their prey species.
The support Discovery provides to WWF will go toward:
Improved resources for security measures, including additional field-training and high-tech anti-poaching tools for rangers
Increased monitoring and assessments of tiger populations with camera-trap installations
Maintenance of land corridors to improve connectivity for wildlife movement
Implementation measures to reduce human-wildlife conflict through community education and engagement
WWF is a key player in global tiger conservation
In 2010, when tiger numbers were at an all-time low, governments of the 13 tiger range countries – Bangladesh, Bhutan, Cambodia, China, India, Indonesia, Laos, Malaysia, Myanmar, Nepal, Russia, Thailand, and Vietnam – decided innovative conservation efforts were needed. They committed to an ambitious and visionary goal: Tx2 – to double wild tigers by 2022. WWF played a key role in helping to develop this plan and continue to ensure it is put into practice. With governments, scientists, rangers, communities and companies like Discovery, WWF is working to ensure tiger conservation is given the priority and investment it requires.